With the trend towards replacement of polymer film linings for barriers in food contact with eco-friendly barrier coating, testing applied traditionally to greaseproof paper, and glassine, may be relevant.
Test-Tech is pleased to announce that we now offer grease resistance testing.  We provide Kit testing to BS ISO 16532-2 or TAPPI T559 and Turpentine test for voids to BS ISO 16532-3 or TAPPI T454.
The Kit Test measures how well barrier coated paper and boards, used for food contact, prevent wetting of the cellulose fibres of the material. Test solutions are used with varying strengths of castor oil, toluene, heptane.  The highest numbered solution that remains on the surface of the paper without causing failure is reported as the 'kit rating' (maximum 12).
In the Turpentine Test, silica sand is placed on the paper and dyed turpentine added to saturate the sand. The time taken for the dye to penetrate the paper is determined up to a limit of 30 mins (the sheet is considered impenetrable after this time).
Photo showing a Turpentine test in progress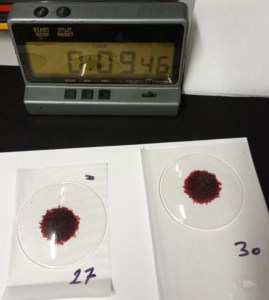 Other surface properties can also be measured:
Air permeance (Bendsten, Gurley, Potts), water absorption via Cobb and Klemm techniques, water vapour transmission rate (MVTR).
https://test-tech.co.uk/wp-content/uploads/2019/10/pppt.svg
0
0
Richard Sauders
https://test-tech.co.uk/wp-content/uploads/2019/10/LogoHeader.svg
Richard Sauders
2021-02-08 15:26:45
2021-02-08 15:41:48
Kit testing and Turpentine void testing of barrier papers